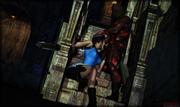 Yay! Another Resident Evil set! This time with Jill Valentine, who is always a raging whore for a giant T-Virus monster cock. It's 28 pics of Umbrella Approved fun at
www.mongo-bongo-art.com
. And the set download is free for members for the next month
(as always)
.
So had this guy sitting around on my computer for like forever. Not really quite sure what the hell he was supposed to be. Kind of a cross between the RE4 Chainsaw Maniac and the RE5 Chainsaw Manjini
(keep in mind, I've never played either)
. And not even sure if he was intended to be a zombie or not. But one thing is for sure - he's big, he's black, he's bad... and he's missing alot of flesh. And he's got a chainsaw. So... yeah.
(And yes, that was actually 5 things. Shut up.)
In any case, been watching alot of
The Walking Dead
lately, so got in the mood for some zombie-like stuff. And if you haven't watched the show, you should. It's fucking awesome! Not alot of these types of zombies though. More like the decaying-corpse
"braainnnssss"
zombie types. Not very sexy. But damn good show regardless.