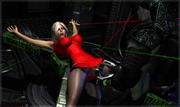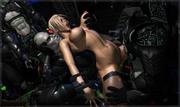 Love, war, treachery, potential genocide, and a whole lot of sex! Just another day in the life of star trekking Ensign Jenny. This time it's 26 pics of Jenny going up against her most dangerous foe yet... The Borg! Full set available at my paysite -
www.mongo-bongo-art.com
. And the set download is free for members for the next month (or thereabouts).
Jenny is based on our favorite glamour/nude model, the ever sexxxy Jenny Poussin! Normally I'd link you to her site, but she's closing that down. Just too much effort in between school, all her other gigs, and of course partying. So go check out her
DeviantArt page
instead. Or if you are in Boston in November, go meet her in person at
SuperMegafest
(seriously, that is what they named it)
. Though if you are gonna go meet her, don't be all creepy weird and shit
(y'know like you normally are - don't do that :-P)
. Oh! And in other Jenny news, she's getting boobs boosted even more. Crazy iknowrite. But will probably look damn good when she's done!
So this time we went with ST:TNG for inspiration. With what is generally regarded as the defining episode of the series -
Best of Both Worlds
. Watched it a couple times for research. It's better than the TOS episodes... but not by much. The production values of TNG were just sooooo bad by today's standards. Really that shit is just difficult to watch. Once again, alcohol is your friend if you decide to check it out. Not as bad as Arena, but still not good. This may be heresy to actual Trek fans, but I kinda think the Enterprise series was the best of the franchise.
Vibrator I-Type by ???