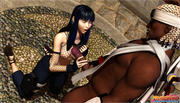 Little known fact - Hinata doesn't really like Naruto. She's just a complete whore for anyone with a Tail Beast sealed inside of them. Believe it! And when given the chance to see what the Eight Tails is all about, she can't pass up the chance. So a new set available at the paysite -
www.mongo-bongo-art.com
! 29 pics of everyone's favorite low-esteem kunoichi taking it hard and fast from Killer B. And of course, the download is free for members for the next month.
So had originally intended for this set to be around 12 pics and to finish it on Wednesday. Yeeaahhh. I should know by now that simply isn't the way things work. Once I start rendering, more and more ideas start popping into my head. And instead we get sets twice the size. Had fun playing with some effects that I hadn't messed around with for awhile. So it's all good.
Oh, and on a side note, has anybody else run into issues with the paysite not formatting correctly? On one laptop it looks fine and normal. On the other it's just a mess of text and pics on a white screen. Both running Firefox 12 so not sure what's up.