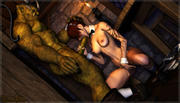 This time around we have Groknar the Orc Barbarian getting a side order of Tavern Maid to go along with his meal. Some of you may recognize the goofy helmet and the orc wearing it from the old
Wood Elf set
. Well it is him and he's back doing what he does best! It's 30 pics of waitress ravishing fun, available at
www.mongo-bongo-art.com
. And the download is free for members for the next month. Gotta love DigitalDeliveryApp and how easy it is to adjust pricing. Never coulda done it with the old E-Junkie storefront.
Anyway, had been bouncing the idea for this set in my head for like forever and a day. Finally got around to doing it. And of course, all that time made me want to get it "just right". Spent ridiculous amounts of time working on the lighting. And gotta say, it did pay off rather nicely. Still took way too long though. But whatever. So obviously influenced a bit by Conan
(in case you were wondering wtf that last pic was all about)
. And originally the set was gonna feature a different orc
(see below)
. So got him all built up and looked at the coloration and realized blue just was not gonna work as well as green would. And since we already have a green orc he ended up getting another set, an upgraded look, and a name
(lucky him!)
.