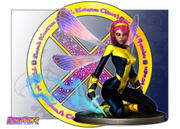 Some random stuff I've been playing with for a bit. Test pics and doodles for possible sets and the like. I really should make a habit of posting these things more often. In any case, a geisha chick for if-and-when I ever get around to doing the asian-theme story I've been tossing around. Yeah, yeah, I know some of you aren't as keen on Sengoku stuff as you are on Sword&Sorcery, but I like it. So there. :-P And also caught up on reading some X-Men after a few years. Gotta say I like some of it. Fell in love with Pixie as soon as I saw her. 'Course I've always been a huge fan of the Limbo themes in X-Men so hard not too love her. And yeah always been a fan of the soulless Russian blonde
Illyana Rasputin
aka Magik.
(Though having faced many Russians in MMOs I don't think any of them actually have souls to begin with - just kidding... not really though ;-P )
So definitely gonna have to do a pic of her too, and probably a Pixie/Magik set as well. And Jubilee finally got interesting! I utterly despised the character when she first came out. Just a bad ripoff of Kitty Pryde/Wolverine dynamic. And fireworks? That's her mutant power? Really? Much cooler as a vampire now. And of course gonna have to do something with her and X-23 at some point. Will have to make a pic of Dani Moonstar too. Hard to go wrong with a cross of hottie Native American and Valkyrie. Which amusingly enough is related to how I got into X-Men in the first place -
X-Men Annual
&
New Mutants Special Edition
where they go to Asgard, Storm replaces Thor as God of Thunder, Dani becomes a Valkyrie, Magik gets all sorts of fucked-up, and more! Was a fun little story!