Well it turns out that pulling all-nighters and then riding your bike in cold wet weather might not have the best effects on your health. Who knew? Not me, cuz I'm apparently a massive fucking retard. And of course, what is the best way to beat a cold? Yes, that's right! Ride your bike again in that cold wet weather cuz I'm immortal and it'll just "burn the flu out with exercise"... or something. Yes, apparently I am THAT stupid. Needless to say, spent over a week feeling like absolute shit. But finally feeling better and coughing the garbage out of my lungs. So yay for that!
Obviously, the Mynxie set didn't get finished for Xmas. But more time I spend working on it, farther it will get away from the relevant season. So reckon I'll just keep it relatively short and just do it for free. Cuz why not? And it's Christmas/New Years. And I missed my deadline (which frankly is the more annoying part for me). So keep an eye out for that.
And of course Rogue One. Which I was going to do a review the day it came out, but that was the day I started to really feel like shit. Kept getting pushed off until later in the day, and then, well... yeah. So now that I'm back in the land of the living - Rogue One. Odds are you've already seen the movie. It's a good movie. It's the movie that Force Awakens SHOULD have been. A badass believable heroine that isn't just some ridiculous Mary Sue. A plot that involves searching for somebody and stopping the Death Star, but manages to tie both aspects into a coherent entertaining plot. Just a decent solid story overall. Only nitpick was the ending. The romance-vibe with explosion in the background seemed kinda shoe-horned in there. Didn't seem like much attraction between the characters before that. Then again, possible I missed it - wasn't exactly top of my game right then. Anyway, if you haven't seen it, you should. It's good.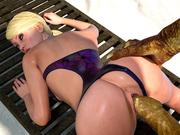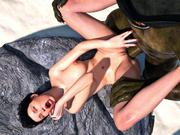 And also got a bunch of sets from Hibbli for you to check out. The Beach Day sets are now available at the store. So if you haven't had a chance to check them out before, now is a great time to do so. It's all five smoking hot fantasy babes taking it hard and rough from some monstrous pirates at
mongo-bongo-art.com
, with each set being about 35 pics.