So y'know those awesome Marvel movies that are really great? This isn't one of them. Nope. Doctor Strange is a bit more like the first Thor movie than say the Avengers. It's not a terrible movie, it's just a movie. It's sole purpose seems to set the stage for more of the Marvel Universe. So it did that. Yay. But overall it's still kinda "meh". Imagine if Inception and Harry Potter had a child - not a prodigy child, just some mediocre child. That's Doctor Strange. Maybe it's awesome for people that followed the comics, but I just didn't really get into it all that much. Partially cuz of
Benedict Cumberbatch
. I just don't think he's all that great an actor tbh. Comes across as kinda
tryhard overacting
. That's pretty much the first half of the movie. Oh and what's with focusing on Cumberbatch tears? Why is that a thing in movies?
Second half of the movie is kinda where it redeems itself. Characters start to come into their own. Oh speaking of characters, did anyone see
Constantine
with that paragon of acting Keanu Reeves? Remember the chick that played the
angel Gabriel
. Well somebody apparently had a hard-on for that role cuz she plays the same exact character. Which admittedly she does do rather well. Anyway characters start to come into their own and a plot starts developing. And in the end Khan saves the world from the evil plot of
Le Chiffre
(who apparently is in Rogue One as well)
. Cute credits scene at the end with Thor. Anyway, matinee movie at best. Netflix or w/e probably the better choice.
Speaking of strange superhero shit. Arrow. How is this a show? Who watches it that it has somehow gone for 5 seasons? Do you?! Do you watch this? If so, please tell me why. What is the draw?! I don't understand this! I don't understand any of these DC shows. Arrow? Supergirl? Flash? They just seem so... well... I don't want to use the phrase
"utter crappy shit"
, but that is how they seem. I mean it's fine if you do like it. I like the aforementioned Keanu Reeves movies precisely because he is such a shit actor and it's fun watching him go thru a movie being the same Keanu he always is. But I just don't get that out of the DC shows. So if you like them, what is it you see in them?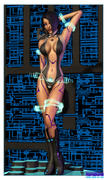 And here's some more test pics. First up is Ryoko. Probably no set in store for her anytime in the near future. Just felt like playing around with the character a bit and testing some stuff out.
And then some test pics for
Eyline Avari
. An OC that some folks may recognize from Hentai Foundry and other such places. Figured it seemed like a fun idea. So will probably do up small mini-set type of thing for her.