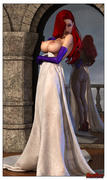 Okay, some more test pics for the ideas you guys have tossed out so far. First up is the ever popular Jessica Rabbit. Changed her hair out from previous sets cuz that previous hair model was just shitty to work with. Not exactly like her typical hair but I think it looks quite a bit better, and is easier on me for posing & rendering so that counts for alot too. Also slightly tweaked her face and body morphs a bit, and reworked the texture nodes. Already have a partner in mind for her, but open to suggestions as always.
Then we got our little Wild West cowgirl. True, not suggested previously. However, I have gotten myself completely addicted to HBO's
Westworld
. Which if you haven't checked out, you really should. No it's not the nudey GoT fuckfest that was hinted at with all the press releases, but it has a potentially interesting story. Whether or not it remains interesting or devolves into some
Lost
-type of bullshit remains to be seen. Anyway, was of course inspired to do a bit of work on our cowgirl. And as a sidenote, the show has also given me a massive hard-on for the release of
Red Dead Redemption 2
. I am so pre-ordering that shit! Cuz that'd be a good idea, right?
And lastly the suggestion for a redux of Pirotess & the Mind Flayer. One of the very first sets I ever released... and it was terrible. I look back on those sets and just cringe. Course I do that with sets I released last year too. Always room to improve. But I digress. Did quite a bit of reworking for the two of them. Updating the node layout for SSS, changing textures, new morphs and sculpting, altering the poly count on the squid head to not be so... well... shit. Also turns out that Pirotess was the original base for my WoW Belf - totally forgot. Also amusingly enough, I still have never watched
Record of Lodoss War
all the way through. Think I got a handful of episodes in before getting bored and turning it off. How did it ever become an old school anime staple?
And in general news, working on the Halloween Vampire set that I promised somebody a long ass time ago. Got a week to finish it and will hopefully make the deadline. After that figuring I'll probably do Harley/Bane. Course around that time we will also have the election and reckon I'll fall into a deep depression. So who knows how long that will take to finish.