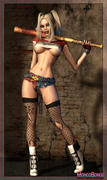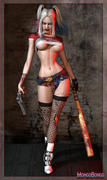 Alright, first up we got Harley. Pretty happy with how she turned out. Though actually on second look, could probably try a red bra beneath the shirt. Might add something? Anyway, suggestion was for her to pair up with
Killer Croc
. Gotta say not terribly thrilled on that idea though. He just kinda seemed like a lackluster character in the film. And a quick search through comic history doesn't give alot to go off either. He's just kinda "bleh". Would be fairly easy to model him up though, so he does have that going for it. Am pondering having
Bane
have a go at her. Again easy to model up, and has that whole "ultimate badass"
(and closet Luche Libre)
thing going for him. But I am also constantly reminded of
Mr Mumbles
from the movie, so he has that against him. You guys got any other ideas for who to bang the hell out of Harley?
And then the ever popular Power Girl getting violated by a super mutt. Now some may remember my epic hatred of Krypto - the lame dog in a cape. Which changed with the New 52 when he became the
murderous wolf-beast
thing, and looked ALOT meaner. Took a bit of time, but got something I was finally satisfied with - thanks Poser Hair room. Some folks suggested "Wolf". Took me awhile to figure out just who/what the fuck "Wolf" was. Turns out it's Lex Luthor's version of evil Krypto - a mutated Timber Wolf. Which the New 52 apparently blatantly ripped off to make the "new Krypto". Go figure. Pretty much all the same in the end. So only thing I'm really stumped on is location/scene. Where shall the bestial frolicking ensue? Oh, and Power Girl's hair. Works? Too short? Pretty happy with it, but still kinda on the fence.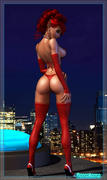 And lastly, our favorite slutty Shadowrun bartender, Cherry Bomb. Here's the poster pic some were asking about. Never really had a set idea in mind for it originally. It was just an add-on pic for another Shadowrun set. Was originally going to go with
this pic
from way back in the old days of Renderotica. But couldn't figure out who in the hell the artist was
(anybody know?)
. Like many from the early days of render pr0n, he just sorta vanished. So figuring that I couldn't give proper credit, just decided to make my own version. And then since there was some interest, fleshed out the idea a bit more for a set.
So there ya go! If ya have any ideas / opinions on them, post a comment. Currently working on another set
(which isn't one of the above)
. And still have some other idea pics I'm working on as well. But as usual, if you have more ideas post them below.