So yeah. Uploaded a bunch of sets from RedRobot, which are some of his best work yet! Ok one I uploaded a month or so ago, but just completely forgot to make a post for it. But that means it still counts! In any case, definitely worth taking a look. There's some good shit! First up is vampire huntress Helen Black who of course gets captured and ends up becoming the sex slave of the Vampire Queen. Then there's the continuing story of the witch Hallow, and her pussy-pounding adventures in the Lair of the Minotaur. Followed by the classic sci-fi tale of a researcher and her erotic encounter with a lab specimen
(it's standard scientific practice in the future!)
. And lastly a bunch of sorority sluts on the prowl for hard cock decide to take on the Chess Champ! All available at
mongo-bongo-art.com
.
Helen Black: Vampire Hunter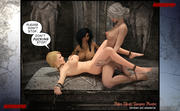 Tales of Hallow: Lair of the Minotaur
Interspecies Communication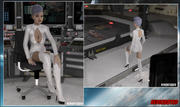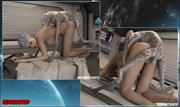 Checkmate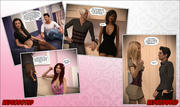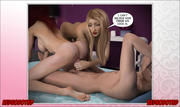 ***
And of course the obligatory movie review. Checked it out Friday morning. And I'm sure it'll piss off fanbois and the like, but I didn't think it was a terribly good movie. It wasn't necessarily a bad one, it just wasn't very good. And after the last three, it kinda did need to be good. Like "knock it out of the park" home-run good. And it just wasn't. And that's even over-looking the whole replay of the the first movie, which we can just write off to the whole "nod to the past" stuff. Sure, that works for me. But the new characters are just.... well.... they don't have any character. And it's not the actors fault, cuz they did a good job. It's just the writing. They just came across as kinda hollow to me.
With Luke, we got the whole - wants to join the rebellion, was actually a decent pilot who bullseyed womprats, and ends up getting dragged into the whole thing cuz his family was killed and had no other real choices. But with our plucky new heroine, she's just magically a mechanic genius and awesome pilot cuz... reasons! Or something. Alright we can believe she's a decent mechanic cuz of the scavenging thing - cuz that's what you do when you're an awesome mechanic, you scavenge... I guess. Not to mention the whole
"this droid is now my best friend"
and I'll attack people on it's say-so, and then instantly befriend the person I attacked cuz... more reasons. Oh! And there's also the "my life has been shit", full of misery, loneliness, and anger - yet somehow I immediately embrace the Light side cuz.... more reasons? And being awesome, I self-train all my Jedi powers in a matter of minutes. The shit just did not make sense. Which sucks cuz Daisy Ridley did a good job. Or as well as she could with the shitty writing she was handed.
And then there's Finn. Who is janitorial staff, but somehow also on the top commander's kill team? What? How does that make sense? At least try to explain that somehow. Bureaucratic mix-up? Had always naively wanted to become a real stormtrooper? Give us something. Hell, all it takes is one line to give him some sort of backstory. And for a kid that was raised by the First Order to do one job, he sure does seem to be a pretty well-rounded, socially-adaptable, and level-headed guy. Not something you would really expect being raised in such a repressive environment where you don't even get a name. Oh, and he self-trains
(albeit poorly)
lightsaber combat as well. Cuz he's also awesome.
Speaking of lightsaber combat, fucking Kylo Ren. Is he supposed to be menacing or comic relief? I don't get it. Yes he's angry teen, wannabe Darth Vader, driven to rage tantrums by his own insecurities. That is his character and how he is apparently written. But he's not scary.. At all... You don't even get the vibe that he's barely hanging on the edge of sanity and could go batshit crazy at any moment - which would be a legit reason to be scared of him. He's just a pouty kid. Who apparently also sucks at being a Sith, cuz despite being trained to use a lightsaber he can't roflstomp two schmucks who just saw their first glowstick a mere hour ago. Guess he's not awesome.
And it wasn't even a self-contained movie! There was no feeling of resolution to it. What was the main plot? Was it to find Skywalker? Or was it to blow up the Ultra-Death Star? Choose one and stick with it. Even
Phantom Menace
had a main plot - save Naboo from the invasion. This was just... I don't know what this was. I don't think anybody did. It didn't seem to have any idea where it was going. Why was the Ultra-Death Star even put in there? It didn't do anything to further the story other than to provide explosions. It just... ugh.
Yeah y'know what? The more I think about it, the more that movie just kinda sucked. Bleh.
***
Oh, and also working on a Mynxie set for Christmas. Hopefully it'll be done before the holiday. No, it has nothing to do with Game of Thrones. Just wanted to make a silly pic.