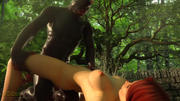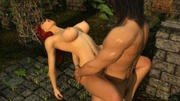 Another Zen set! Available in the full complete version. Fleeing a lecherous suitor, elf princess Rubithia seeks refuge in the forest -- and finds unexpected release for all her animal desires. Features haughty elves, big boobs, rude groping, landing strip, fingering, licking, oral, vaginal, anal, deep throat, cum-shots, and cat-creature sex. It's 120 pics of epic elfy erotic adventure at
mongo-bongo-art.com
. And remember all sales go directly to the Zen. So buy it here and now, so he can get the most out of the purchase!
And keep in mind, this is the full complete panther-sex version. Not that weak half-assed shit that other sites try pawn off on you, the discerning customer that you are. You know the sites I'm talking about, the ones that continue to do business and get paid by their card-processors.
(Though amusingly enough they do business with the same card processor I do and are mostly likely in the same boat of having significant amounts of money seriously past due.)
Fortunately however, we just don't give a shit about "rules" cuz I'm like all xxxhardcore and shit (LOL). No really, it's just cuz I'm lazy, disinterested, don't give a shit, and am hardly bothering with the site at all - as can be evidenced by the fact that out of the last 4 sets posted on the site, 3 have not been done by me. ... Wow that went off on a rambling tangent. Anyway, point is - PANTHER SEX! Cuz that makes everything better!
But there is a method to my lack of rendering. Still slogging away at Unity and game dev stuff. And I should mention, that Unity5 was released beginning of this month. Which while it entails some annoyance at having to relearn and fix little things, also includes something amazingly awesome - you can get the FULL COMPLETE version of Unity completely free. As long as you are NOT making $100K+/year using the program, it's absolutely free. Every feature, every perk, it's all included. So if you ever wanted to play around with game dev,
download it
and give it a shot.