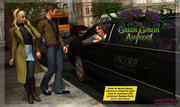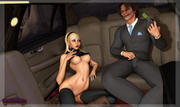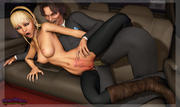 The first part of a Green Goblin set. Gwen Stacy gets a ride home in the back of Norman Osborn's limo. It's 40 pics of Goblin formula fun available only at
www.mongo-bongo-art.com
. And the set download is free for members for the next month(or so)!
So went with the Willem Dafoe version of Norman Osborne. Cuz he did a kickass job of it, trying to do the
hair from the comic version
would just look weird. Seriously what kind of hair style is that? Does hair even do that? Whatever. Dafoe was better and easier anyway. And tried to channel in a bit of
Bobby Peru
as well. Cuz he freaked me the fuck out in that role. Also the set is kinda in time for the release of the
Amazing Spider-man 2
DVD. Ok, not really. And wasn't intended either, was just a happy coincidence. Wasn't even a very good movie
(think I reviewed it last Spidey set)
. Don't waste your money on the DVD.
And speaking of wasting money, people are still signing up for subscription memberships. Why?!! I suppose it would make sense if they were doing it to make use of the discount before it's ended... but they aren't. So it's just weird. Really don't understand it. But whatever, their money. Also this is the first of the last two free member downloads
(did that even make sense?)
, so only ONE more free set left. Which coincidentally enough, will be part two of Green Goblin. Will probably also be around the same size
(35-40 pics)
. After that it's gonna be smaller sets
(20-30 pics)
unfortunately. On the plus side, they should get finished a bit sooner.