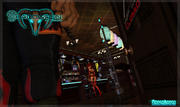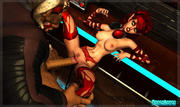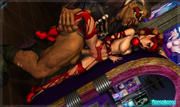 Shadowrun Re-Returns. With sexy elf bartender Cherry Bomb taking it hard and rough from a Troll Shaman. It's 32 pics of cyberpunky sex at
mongo-bongo-art.com
. And the set download is free for members for next month(-ish).
So let us return to years of future past... when Seattle was the epicenter for culture, when Japan was going to rule the world economy, and games were printed on sheets of pressed wood pulp glued together in overpriced stacks, and you were actually in the same room as the people you were playing with. Yes, let us return to the late 1980's and Shadowrun. Fantasy and Cyberpunk. Two great tastes that taste great together. Well for some people at least. Others completely despise the idea. In any case, the game is a fabulous snapshot of the fucktarded pop-culture idiocy of the time. The
game's timeline
is worth checking out for a laugh. So much they got so terribly wrong. And yet so much remains the same. Still plenty of folks terrified of the big bad soul crushing megacorp. Occupy Wall Street! Sigh.
In other Shadowrun news, they are making a sequel to
Shadowrun Returns
, this time based in Berlin. But the sequel has been
delayed until Jan 2014
. So good and bad news I guess. Wonder if they are gonna make any improvements to the game editor.
And because it just wouldn't be a proper post without a movie review. Cuz that's really why you come to this blog anyway, isn't it? So Riddick. I am of two minds about this movie. I distinctly remember the first time I saw a Riddick movie. We got Pitch Black and Event Horizon for some drunken weekend movie watching. Did not come away highly impressed
(though I think Event Horizon had alot to do with that)
. Chronicles of Riddick of course did nothing to really change that opinion. Fun and violent, but still a crappy movie. So I went to this one with the resigned assumption of another mindlessly stupid Riddick film with him being a tediously invulnerable over-the-top super-human engine of destruction. That's not what I got though. Riddick was vulnerable and human. I mean he was still a badass, but he could get hurt. Like actually fucked-up hurt. And I'm not sure I liked that. Cuz he's supposed to be this invulnerable badass, right? Which just goes to show that you can NEVER make people happy. :-/
However, it was still a right decent movie. Not the least of which is because it does make he him somewhat human. It pulls alot from the other two films in imagery and plot. Does a good job of maintaining the storyline from the other films. The pacing is similar to the first film, but still keeps some of the wtf baddassery of the second. And the acting was surprisingly NOT terrible. So all-in-all I enjoyed it. Would recommend.
And of course I would be remiss if I did not mention Katee Sackhoff. For me she was actually the weakest part of the movie. Not because of anything she did. But because of how she was written. If you enjoyed her as
Kara Thrace / Starbuck in BSG
, then you are getting more of that. Cuz that is EXACTLY what her character is. Starbuck. It's like they pulled a BSG script and slapped it into the movie. Kept expecting to see the horrid pock-marked face of Edward James Olmos pop up someplace. :-P
Hmmm... Keep thinking there is something else I wanted to mention. But it's 5am and I have no idea what it is. Been up all night migrating all the shit in my store from DigitalDeliveryApp to SendOwl. Ugh. Well whatever it is, it'll have to go in another post I guess. Oh wait! All the ideas/suggestions from the other post. That's what I was going to talk about. Y'know what? Fuck it. I will wait until another post. There were ALOT of ideas.