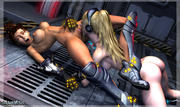 Yay! Another Starcraft set. Now with two times the amount of everyone's favorite Ghosts. And ghetto-zergs! Don't forget them. Kerrigan and Nova have 25 pics of brood-tastic excitement at
www.mongo-bongo-art.com
. And members can download the set for free for the next month or so.
So not exactly what I had in mind when I was first pondering the idea of another Starcraft set. But I like where it ended up. And I think it's a step up from the last Starcraft set. So enjoy!
Also, some of you may not have been aware but Zzomp got his blog deleted by Blogger AGAIN. Freaking crazy. It's like the third time it's happened. But he is back up again! This time with Blogspot in Italy (cuz he's like Italian and stuff). Hopefully they will be a bit more lax than the normal Blogspot. So drop by his
new blog
, check out what he's working on, and give him some comment love.
Credits:
Tentacle Hair by Ajax (old old old Daz freebie - no longer available)
Corripio Ossis by
Sixus1
(apparently no longer available)