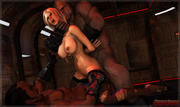 There are many things to fear from the Great Threat from the North. Yes, that's right. I speak of the lurking enemy waiting to plunge a dagger in the back of America. Yes, I speak of Canada. When they are not plotting in their igloos or log cabins (or whatever) on how to invade our fair country with their battalions of moose-riding Mountie calvary, they are trying to foist their pipelines on us to create jobs, or taunting us with their clean cities. Suffice to say, there is much evil that comes from Canada.
But one good thing that does comes from Canada is
Jenny Poussin
. A smoking hot little French-Canadian fitness/nude model. If there is one thing that might inspire you to get off your lazy ass and go workout instead of downloading porn, she might be it. So about two months ago, I get an email from her asking me to do a set based on her. And not some girly set, but one with lots of hard rough sweaty sex. Yeah. She's that type of girl. And on top of being a crazed sex fiend, she is also a bit of a Trekkie nerd and enjoys pen-n-paper RPGs. Go figure. Anyway, she proposed this idea for a set and... well... how could I possibly pass it up?
So we have the adventures of Ensign Jenny. 35 pics of fighting the Klingons and saving the day in classic Trek style (or not). Full set available at my paysite -
www.mongo-bongo-art.com
. And the set download is free for members for the next month! Doing the set was a bit rough. Right when I was about to start I ran into "artist's block". But when I finally got over that, I had too damn many ideas for poses. This set has more poses in it then any other set I've done. Normally I'll do two camera angles of a single pose with a slight variation of head or arm position, and maybe an expression change. This time every pic (except one) was a completely different pose. Plus other poses/renders for video screens and outside shots. Was just a crazy amount of rendering! But I think it was worth it.
Also go check out Jenny's site at
www.jennypoussinvip.com
. Some really great stuff! To give you a taste...
Klingon Head Morph for M4 by WERTS (deleted from ShareCG)
Oh, and as a sidenote - I FUCKING HATE blogger's new setup. Their new piece of shit compose tool keeps changing my code. Complete and utter garbage.